About Us
Wisconsin Tool Works is a family of three Wisconsin-based tooling companies with more than 125 combined years in business.
We leverage our collective experience and diverse capabilities to build high quality injection molds, stamping dies, jigs, and fixtures.
Our goal is to blend craftsmanship with collaboration to design and deliver expertly crafted tools that meet or exceed the exact needs of our customers across many industries.
Our Companies

Quality Tooling for the Molding Industry
At M&M Tool and Mold, we are the industry leaders in expertly crafted small-to medium-sized injection molds. Our innovative approach to creating design solutions, collaborative approach with our customers, cutting-edge technology, and expert craftsmanship enable us to create and deliver award-winning products that meet the unique needs of every one of our customers.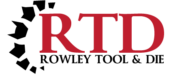 High Quality Progressive Dies – From Start to Satisfaction!
Rowley Tool & Die has been providing high quality metal stamping dies since 1945.  We also offer die design, certified welding, and wire EDM outsourcing services. We believe in developing a strong relationship with each of our customers. From design to delivery, our team provides "Start to Satisfaction" solutions!

We Put Quality and the Customer First
Forest Tool has expert capabilities in designing, machining, fitting, assembly and inspection of molds, jigs, fixtures, stamping dies and special machines. Our experience and commitment to service will provide you with the best tooling to meet the needs of your project.
Contact Us
Our Locations
M&M Tool and Mold
3300 Commodity Lane
Green Bay, WI 54304
Phone: 920-336-6474
Rowley Tool & Die
631 Commercial Avenue
Green Lake, WI 54941
Phone: 920-294-6520
Forest Tool
600 Industrial Park Way
Crandon, WI 54520
Phone: 715-478-5870
Get in touch with us!
We take a collaborative approach to meeting your tooling needs.
  Experienced Tool Makers
  Commitment to Quality
  On-Time Delivery